Are you feeling overwhelmed with all the car seat accessories available in the market? Are you unsure of what's safe and necessary for your child's safety?
Don't worry, this comprehensive guide will help you navigate through the different kinds of car seat accessories that are best for your baby. You can make an informed decision about which ones to purchase for optimal protection.
Introduction
Car seat accessories are devices that are used in addition to the car seat itself to ensure its proper installation, optimize a child's riding experience, and provide comfort. When considering an accessory for a car seat, it is important to consider its safety and necessity. Researching the products available on the market can help determine which piece of equipment fits best with your existing car seat or what type is needed for a new one.
This guide will provide an introduction to some of the major types of accessories available as well as tips on installation and proper use. Whether looking for travel solutions or comfort items, it is important to be aware of each product's best use and how it works in conjunction with your car seat. Knowing the details before hand can aid in making informed decisions when finding the right accessory fit for you and your family's needs.
Explanation of the importance of car seat accessories
Car seat accessories are a great way to improve your child's safety and comfort while in the car. Many parents wrongly assume that all aftermarket items offered for car seats are either overpriced gimmicks or not necessary. Unfortunately, this couldn't be further from the truth. Car seat accessories can help provide additional protection, comfort, and convenience while your child is in the car. In order to ensure your child remains as safe as possible, it's important to understand which items are necessary and helpful when purchasing car seat accessories.
The most important category of car seat accessories are safety features. This includes head supports and cushions that adjust to fit snugly around your child's head, torso and legs. These supports keep your child from being thrown forward during a sudden stop or turn, thus reducing the chance of serious injuries from the impact. Another type of safety bracket is known as a LATCH system (Lower Anchors and Tethers for Children), which helps keep your child securely fastened in their seat even when you aren't using a standard vehicle seat belt system.
In addition to safety features, other types of car seat accessories include harness straps, covers or pads that shield children against cold weather or sun exposure, stroller systems with interchangeable attachment points between different car models, special food trays with cup holders that attach directly to any car seat model on the market while providing an easy way for kids to eat on-the-go and even special toy hangers letting little ones stay entertained during long rides. Choosing these types depends largely on personal preference; if you have an infant or toddler then you may prefer more plush toys rather than harness straps while older children often benefit more from covers designed to shield them against cold temperatures or direct sunlight from windows during long rides.
Overview of the guide
For new parents, it can be overwhelming to select the right car seat accessories. Researching which ones are essential to keep your child safe and healthy is a priority. This guide is intended to provide helpful information on important safety features and the necessary accessories or features you should look for in a car seat.
We will cover each type of car seat accessory and explain why they are considered "essential" by safety experts. Common features such as headrests, belts and straps, cushions, protectors, covers, harnesses and latch systems will be addressed along with informative tips on selecting proper sizes and types for your infant or toddler's car set. Additionally, this guide will explain the benefits of considering a wrap-around style car seat system that can function as both an infant carrier as well as a toddler booster chair.
With this comprehensive overview you will have all the tools needed to make an informed decision about how best to protect babies and young children while traveling in the vehicle.
Safe and Necessary Car Seat Accessories
It is important to make sure you are using accessories that are deemed safe and necessary for your car seat. Not all car seat accessories are necessary. Some manufacturers produce car seat accessories that may be a distraction or even interfere with the secure installation of the car seat, compromising its safety and risking serious injury to your child in a crash.
Here is a list of some safe and necessary accessories for adults or children to use for their car seats:
Seat belt locks that help keep the vehicle's belt snug against the child's chest, helping protect them from harm in an accident

Harnesses, straps or tethers designed to keep adults or children in position securely

Cushions designed specifically for car seats to help add comfort and support

Car mirrors designed to allow parents an extra view, particularly helpful when rear facing children are seated

Covers or pads specifically designed for keeping babies warm or cool when seated in the car

Play trays/toys, organizers, tablet holders that attach securely over a car seat without interfering with its use

Sun shades, window shades and sun visors specially made to fit over the entire window area of​the vehicle
Head Support Pillows
Head support pillows are designed to provide neck and head support, especially in larger car seats where an infant or child's head may be propped up on a hard surface. The pillow is usually made of polyester fibers which give it a soft and comfortable feel, making it ideal for young children. This type of product is important for protecting the head and neck from any sudden movement, as well as providing comfort to the user.
Moreover, some products also come with other features such as adjustable straps or removable side wings, providing additional customization options to suit different sizes and ages. To ensure safety and maximum comfort, make sure that your product meets stringent safety regulations from independent lab testing, such as those created by JPMA (Juvenile Products Manufacturer's Association) or ASTM (American Society for Testing and Materials).
Explanation of their purpose
When it comes to car seat accessories, parents are often in a tricky spot. Many items marketed for use with car seats promise convenience or comfort, but not all of them are actually safe according to safety standards and requirements. To make things even more confusing, many accessories are unnecessary and won't be needed at all.
To help make the decision-making process easier, here's an overview of what you should know about car seat accessories and why they're important to consider before you purchase them.
Car seat accessories are designed to make travel safer and more comfortable by providing additional safety features or making adjustments that can improve the fit of the seat in your vehicle. Some common accessories include head supports, cushioning foam padding, strap covers, chest clips, height adjusters and foot rests. While not all of these items may be necessary for your individual situation, they do come with several advantages that could be helpful during your travels.
Head supports provide added comfort for your child while also helping keep their head stable so they don't move around too much while driving. Cushioning foam padding is great for providing a more comfortable ride by reducing pressure points in their back or neck area while also helping them stay securely in place within the car seat itself. Strap covers can provide comfort as well as protect from chafing when straps rub against skin or clothing material but should only be used if approved by the manufacturer of the car seat itself. Chest clips help ensure straps stay comfortably taut against a child's chest wall so that they remain securely positioned inside the car seat during use and should not be used unless stated otherwise in the manual for that particular model and age group of car seats.
Height adjusters offer additional customization options to better fit larger kids into their car seats by adjusting both shoulder straps and lap belt harnesses as necessary while footrests are perfect for just getting shorter legs into a better position so that feet don't dangle ahead of time moments when up in being seated upright-positioned before driving begins. Depending on your vehicle's size/type and whether you have booster/forward-facing only seating options will determine which (if any) accessory would best suit your needs – always read through manuals carefully when researching products like these! Familiarize yourself with common safety standards as this will help ensure peace-of-mind knowing nothing is being compromised when enjoying family trips through town!
Criteria for choosing a safe head support pillow
Choosing a safe head pillow can be a tricky process. Here are some important criteria to consider when shopping for the best head support pillows for young children and infants in car seats:
Make sure the pillow is manufactured specifically for car seat use. Not all pillows labeled as "head supports" are safe to use in cars, so read the instructions carefully.

Pay attention to size: The pillow should fit securely and snugly around your child's head without being too tight or restrictive. Most reputable companies provide detailed measurements of their products online so you can judge appropriately before buying.

Consider the fill material: Make sure that the type of material used to make the head support will be safe, comfortable and breathable. A good option is cotton fill with some other materials included as well such as foam, microfiber or spandex/lycra blend. Avoid materials that may cause allergic reactions like wool or feather down (unless otherwise recommended by your doctor).

Think about impact protection: It's essential that any head support provides enough cushioning and shock absorption during impacts from bumps, jolts and sudden stops. Look for hypoallergenic protective layers made from memory foam or other cushioning materials around the perimeter of the pillow if it's going to be used in a car seat with a five-point harness system.

Look for additional features like secure straps and machine-washable covering fabrics if needed. Finally, always check customer reviews on quality of construction before making your final decision on car seat accessories such as head support pillows!
III. Potentially Unsafe Car Seat Accessories
It's important to be aware of the potential dangers of potentially unsafe car seat accessories, especially when outfitting your child with safety items you trust and rely on. Some accessories, while marketed as safe and beneficial additions to a car seat or stroller, may actually be unforgiving pieces of plastic and fabric that don't provide the level of protection you'd expect.
Be sure to read labels and warnings carefully before purchasing any accessories for a car seat or stroller. Even if an excess accessory appears harmless at first glance, it may have been constructed with materials that are less than ideal for safety. It is also important to look out for supplemental parts that are advertised as an add-on for a certain make or model; these parts may not necessarily be compatible with other brands or types.
Additionally, many companies offer infant or toddler "asleep aides," such as head support pillows and canopies designed specifically for car seats – however, these are not usually tested for safety either. These products often do not pass crash tests and can create dangerous conditions in the event of an accident – being overly soft materials that can displace upon impact, providing little extra cushioning beyond what is provided by the car seat itself.
Aftermarket Products
Aftermarket products are items that are sold separately from the car seat itself, providing added protection and convenience. These products include strap covers, chest clips, buckles, harness pads, and more. It's important to only buy items that have been approved by the manufacturer of your car seat. This is because aftermarket accessories do not always meet safety standards or fit properly with your car seat.
In order to ensure that your aftermarket product is safe and effective, there are a few considerations you should keep in mind when purchasing:
Be sure to read all instructions carefully before attaching the product to your car seat.

Check the expiration date printed on the item packaging before use. All aftermarket accessories are recommended for limited use – typically within one year of purchase – as materials may wear down over time.

Make sure you take into consideration how your product will interact with other parts of your car seat such as straps or buckles when installed and tightened securely onto the car seat base.

Finally, make sure you inspect each accessory for any defects before using it. If a product appears broken or damaged in any way, do not use it – contact the manufacturer immediately for further instructions on returning or replacing it with a safe version for infant safety.
Explanation of what aftermarket products are
Aftermarket car seat products, sometimes referred to as "accessories," are items that are not required for the proper installation and use of a car seat. However, they can add convenience or comfort for your child or make it easier to transport the car seat. Examples of aftermarket products include straps, head supports, mirrors and organizers.
When shopping for aftermarket products, it is important to look for products that are tested and approved by the manufacturer of your car seat — otherwise they may affect the performance of the seat in a crash. It is also important to check with your local laws regarding what aftermarket products are allowed in safety seats in your area. For example, some states currently prohibit add-on accessories such as breast protectors or mirrors due to air bag deployment concerns. And although you may find these items on store shelves, it is best to look for safety-approved product recommendations from the manufacturer before you buy them.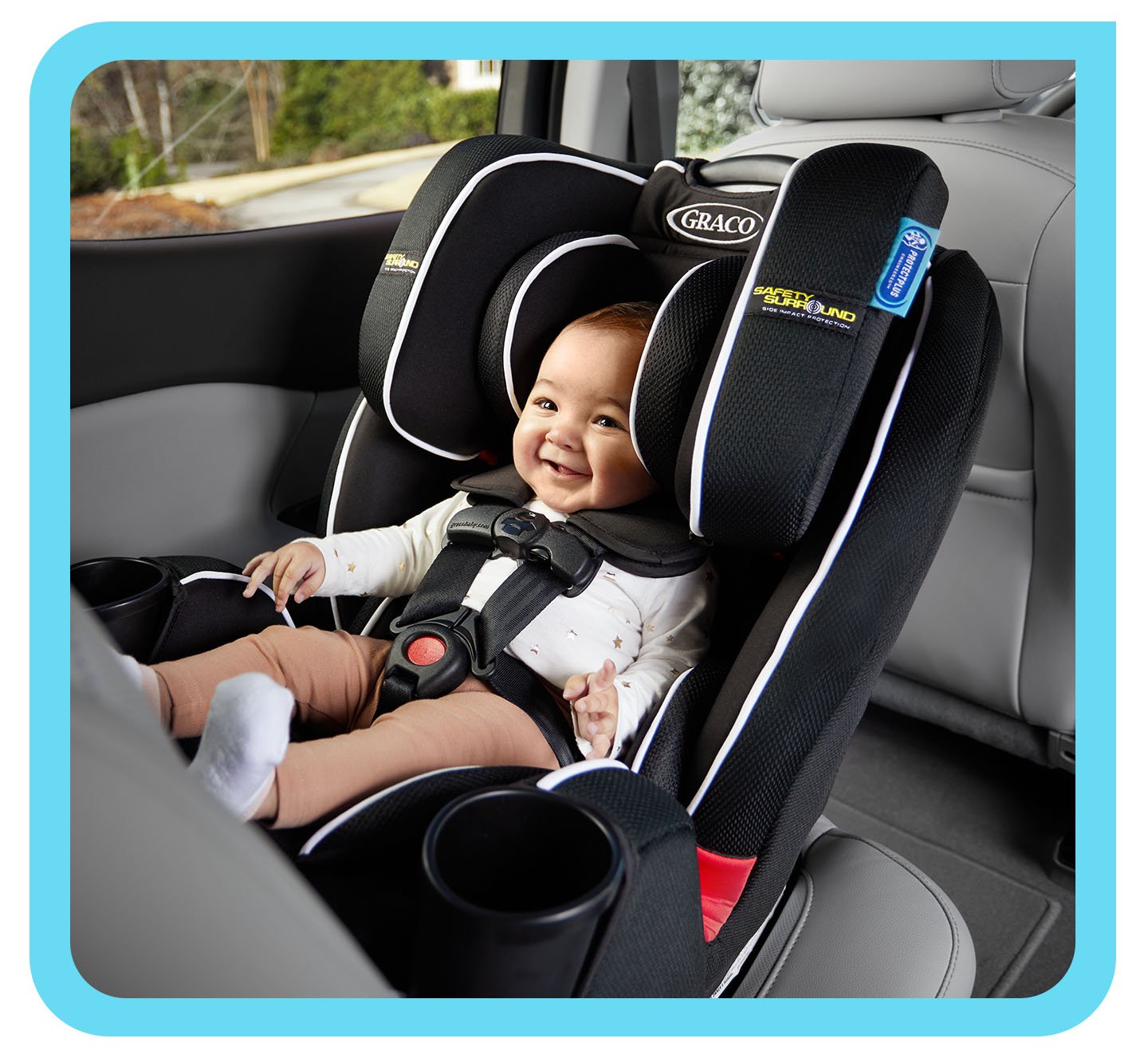 Risks associated with using aftermarket products
Aftermarket car seat accessories such as cushions, straps and mirrors may seem like they make travel safer, but in fact they can put your child at risk in the event of an accident. Additionally, these items can interfere with the performance of the car seat itself, decreasing its effectiveness and adding extra danger to your little one.
Parents need to keep in mind that while comfort is important—blood clots are due to too much steady pressure on a body part—safety is paramount. Furthermore, products that are officially promoted as "approved" by a retailer or by the car seat manufacturer may not be safe for use with that particular model or for a specific age/size range. Anything used outside of the recommended weight/height limits or not allowed by the car seat manual or label should be considered a significant risk.
It is also important to recognize that booster cushions manufacturers might not have been through crash testing and do not guarantee protection from side impacts. Accessories attached directly onto the back or sides of a booster chair (e.g., headphone ports) can worsen crash protection and should also be avoided when possible. It's best to consult an expert toddler restraint technician before using any accessory with potential impact on crash protection.
Conclusion
It is important to research the safety and interoperability of any car seat accessories that you choose for your child. In general, manufacturers are increasingly committed to creating a wide range of compatible products intended to provide enhanced safety, convenience and comfort while traveling.
When buying accessories, make sure they are designed with your specific car seat in mind as well as other factors such as your child's age, height and weight so that they provide maximum protection in case of an accident or emergency braking situation. You should also read the reviews of customers who have already purchased the accessory you are considering so you can determine which one is safest, easiest to use and most comfortable for your child. This can help ensure that you make a wise decision when selecting a car seat accessory.
Recap of the importance of choosing safe and necessary car seat accessories
It is important to make sure that all car seat accessories you purchase are necessary and are safety certified. There are a variety of options available from child safety seat cushioning to sun-blocking shades and beyond, each providing a different level of comfort or protection for your child. Most importantly, all accessories must be certified safe for use in car seats by the American Society for Testing and Materials (ASTM) or the American National Standards Institute (ANSI).
When choosing car seat accessories for your daily routine, it is important to consider both the safety aspects as well as any age or weight limitations included with the product. Additionally, avoid purchasing multiple items that provide similar features. For instance, you may want many items that offer various levels of warmth such as a footmuff, blanket and pillow when your child travels in cold weather conditions. However, only one item should be used at a time since too many items can increase the risk of strangulation and entrapment in harness straps.
Reviews from other parents can also help you determine which products offer value in addition to safety. For example, if you are looking for padding when traveling long distances with your infant it would be ideal if that same padding doubles up as something more — such as offering extra support during car rides or keeping them cool during hot summer days through breathable fabrics. Similarly look into customized fits depending on your vehicle type; cushions with adjustable amounts of cushioning or removable cushion covers may be ideal if several adults need to adjust their seating positions regularly thus accommodating different body types without compromising on child safety standards set forth by relevant certifying agencies mentioned earlier in this article.
In conclusion always ensure no compromises are made on these three parameters —safety , necessary items and comfort— when looking into investing in an accessory for use in a car seat. When inspecting these items pay attention to fine details like stitching or fastening clips which could indicate potential failure spots over prolonged usage periods placing your loved ones at greater risk.. With the right balance you would sure have an enjoyable journey free from unwanted stress!
Final thoughts and recommendations
When purchasing a car seat and accessories for your infant or toddler, it is best to make sure what you are getting is safe and appropriate for your child. Car seats should meet or exceed current safety standards and be used according to the instructions given by the manufacturer.
Accessories such as head Supports, covers, and car seat liners can provide an added layer of comfort and protection for your child; however, it is advised that these only be used in accordance with their intended purpose, and when appropriate for your particular model of car seat.
It is important to also ensure that your car seat is properly installed using the LATCH system or by using a locking clip, as this will help ensure road safety as well as comfort. Before testing out any new accessories in a real-life driving situation, it is best to practice in a parking lot with a certified instructor present who can guide you on proper installation procedures.
Finally, make sure to follow all state laws regarding infant and toddler restraints while travelling– these rules can vary by state. By taking the time to read up on the necessary precautions when looking into car seat accessories you can rest assured knowing you have chosen the right set up for you family's needs.
See Also :